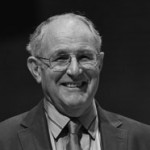 Trevor Wye studied the flute privately both with Geoffrey Gilbert and the celebrated Marcel Moyse. He was a freelance orchestral and chamber music player on the London scene for many years making several solo recordings and was formerly a Professor at the Guildhall School of Music, London and at the Royal Northern College of Music in Manchester.
Trevor Wye is the author of the famous Practice Books for the flute, which have received world-wide acclaim having been translated into eleven other languages. He wrote a highly praised biography of Marcel Moyse and his book, Efficient Practice was published in 2009. His most recent book, Fantastic Flutes, 60 Things You Can do With Flutes, was published in 2011.
During the winter, he teaches at his Flute Studio in Kent, a unique residential course for postgraduate students, and travels throughout the world including annual appearances in Europe, the USA, Taiwan and Japan, teaching and playing, including the spectacular Carnival Show, 50 Variations on the Carnival of Venice for 60 Flutes and Piano. He enjoys serving on juries for international competitions, always traveling in business class, having a fear of it being known that he crashed in economy.
He was the Founder of the British Flute Society and possesses a current Class 'C' Explosives Licence, issued by the British Police, these two facts being unrelated.
In 1990 he was made an honorary Fellow of the Royal Northern College of Music by the Duchess of Kent and in 2011, received a Lifetime Achievement Award from the USA National Flute Association.
Related