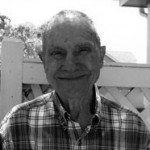 A native of suburban St. Louis, Missouri, Tom Kampman received his Bachelor of Music from Central College, Fayette, Missouri, and his Master of Music from Indiana University.
While pursuing his professional singing career in New York, he began composing and arranging music for vocal and instrumental ensembles. After a move to Denver, Colorado, he was employed as staff composer, arranger, singer and conductor for a production company which specialized in original music for audio-visual programs.
Obituary
Sadly, our friend Thomas P. Kampman passed away February 15, 2022 at Lutheran Hospice in Wheat Ridge, Colorado.