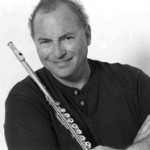 Paul Fried has been a famed musician since his childhood, and is regarded as one of the world's foremost flutists. The Los Angeles times has described his playing as "masterful."
His musical training started with his father, and then in 1955, at the age of 8, he began studying with Julius Baker on a full scholarship at the Juilliard Preparatory School. He performed concerti with orchestras by the age of 10, including a nationwide TV broadcast of the Arthur Godfrey Show.
He successfully auditioned for the Boston Symphony at the age of 23, before his graduation from Juilliard with a BS Degree in 1970. His other teachers were Marcel Moyse, and Eugene Foster.
Paul Fried was assistant principal of the Boston Symphony during 1970 to 1982 and principal of the Boston Pops from 1976 to 1982. In December of 1976, he performed as guest principal flute with the Berlin Philharmonic, the only American flutist to have this distinction.
Since 1985, he has lived in Los Angeles where he has been principal flute and piccolo for over 200 movies, including Lethal Weapon, Die Hard, The Grass Harp, Anastasia, Ice Age, War of the Roses, and many others. He has also been principal flute with the New West Symphony since its beginnings in 1994.
Fried has 10 solo recordings which can be purchased at paulfriedflute.com. He taught at the Boston Conservatory for 10 years and began teaching flute at Azuza Pacific University in their Masters Program in 2012. ScoreVivo.com is proud to feature his first compositions.
Related