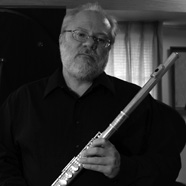 Composer and teacher, Robert Fruehwald, grew up in Louisville, Kentucky where he played flute in the Louisville Youth Orchestra. He attended the University of Louisville receiving a Bachelor of Music in Composition. While at Louisville, he studied composition with Nelson Keyes, Claude Baker, and Dan Welcher, and flute with Francis Fuge.
He spent two summers at the Aspen Music Festival studying flute with Albert Tipton. He earned his Master of Fine Arts degree at the California Institute of the Arts where he worked with composers Mel Powell, Morton Subotnick, and Leonard Rosenman.
He returned to the midwest to pursue a Ph.D. at Washington University in St. Louis. There, he studied under flutist­composer Robert Wykes and finished his doctorate in 1985. Before accepting a teaching position in the late 1980s, Dr. Fruehwald developed a series of computer programs to print musical examples for scholarly journals and books. In 1989 he took a teaching position at Southeast Missouri State University.
Dr. Fruehwald's works have appeared on the concerts of the National Flute Association, the International Clarinet Association, the National Association of College Wind and Percussion Instructors, the St. Louis Symphony Discovery Series, the Memphis Symphony Orchestra, the FootNotes Dance Theater, and the Callous Physical Theater. His music has been performed by flutists Leslie Marrs, Linda Wetherill, Shelly Monier, Paul Thompson and Leone Buyse.