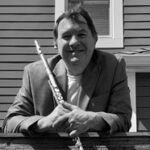 French flutist Paul-Lucien Kulka was a member of the prestigious French National Police Orchestra before moving to New York in 2019.
He began his musical education at the age of 6 in Saint-Raphael and entered the Nice Conservatory at the age of 14. Throughout his years of study, he won multiple prizes and recognitions of merit.
While living in Paris, he also performed flute and piccolo with the RATP Orchestra, the Synaxis Orchestra in Bulgaria, and was a soloist with a variety of ensembles.
As a well-known teacher in several music schools in the Lyon and Paris areas, his students inspired him to arrange pieces for flute ensembles and other instruments.
Since relocating to New York, he has become a member of the Lehman College & Community Concert Band, the Yonkers Philharmonic Orchestra, and the Flute Choir of New York.