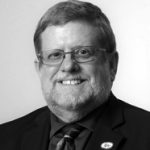 Dr. Mark Hollingsworth is the Dean of the College of Arts, Humanities and Social Sciences at the University of South Carolina Aiken, starting this position in July 2016. Prior to coming to USCA, he served as Dean of the College of Liberal Arts and Social Sciences at East Central University in Ada, Oklahoma (2006-2010) and was Music Department Chair there as well from 2003-2010. He holds degrees in Music from the University of the Pacific, University of Wisconsin-Madison and the University of North Texas.
Originally, from the Los Angeles area, Dr. Hollingsworth grew up in a family of jazz musicians, but in college focused on classical music, music theory pedagogy and composition, which became the subjects he taught for many years. As a clarinetist, he has performed with the Madison Symphony, Wisconsin Chamber Orchestra, Des Moines Metropolitan Opera Orchestra and the East Texas Symphony. As a jazz saxophonist, he performed with the Moonlighters Jazz Band, the ECU Faculty Jazz Combo and the Ada Jazz Orchestra.
An advocate of World Music, Dr. Hollingsworth is also an accomplished performer on the Scottish bagpipes and directed the Arbroath Pipe Band of Oklahoma City. He currently is a member of the Aiken County Sherriff's Pipes and Drums.