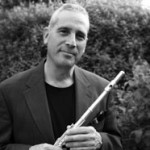 Flutist Marc Adler's musical interests lie primarily in the area of jazz improvisation and composition and it is here where he devotes most of his time and energy.
He received Jazz Performance Fellowships from both the PA Council on the Arts and the National Endowment for the Arts. He holds a Masters in Music degree from Temple University and a Bachelor in Music and Music Education degree from the University of the Arts.
While living in New York City, Marc studied flute with Harold Bennett and upon returning to his native Philadelphia he studied with Pamela Guidetti.
He has written articles and duets for Flute Talk and Jazz Player and has a popular book of etudes published through Hal Leonard. His recordings are available through CD Baby and Arabesque Records and feature original compositions performed by some of the finest jazz musicians on the scene today. He is also a featured artist on various other recordings, samples of which can be heard on his website.
He gained familiarity with flute choir music while serving as a conductor for the PA Flute Choir and is on the board of the Philadelphia Flute Society. Active as a jazz musician in Glenside, he spends most of his time and energy composing, performing, and recording.
Related