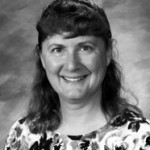 Gay Ott is currently director of choral activities in the Ellensburg public schools where she teaches grades 8-12.
She received a Bachelor of Music Education degree and a Master of Music degree from Central Washington University. She has served on the faculties of Big Bend Community College and Central Washington University.
She has performed and has recorded as the jazz pianist and vocalist with the Many Sounds of Nine, an ensemble that was active for over thirty years. Additionally, she performs as an oboist and English hornist with the Yakima Symphony.
She enjoys arranging music for all different vocal and instrumental combinations.