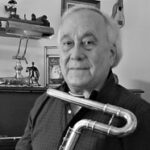 Edgardo Santiago-Ortiz, a Puerto Rico native, taught himself to read music on his own at fourteen, then learned to play classical guitar, Puerto Rican cuatro, tenor recorder, flute, organ, and piano. He studied biology and chemistry at the University of Puerto Rico, entered the ARMY as an infantry soldier, served in Vietnam, was wounded in combat – receiving a Purple Heart – and ultimately had a successful career with the U.S. FDA, starting as a field federal investigator and ending as branch chief.
In addition to writing and arranging music, Ed writes poetry, fiction, and non-fiction in both English and Spanish. Composing is something Ed has done throughout his life, while raising three kids, and being married to his darling Irma for over fifty years. Due to his great desire to share the music he has carried in his head and on loose manuscript pages for years, he studied on his own to become proficient in music theory, harmony, modulation, composition, orchestration, score-reading, conducting, in addition to studying orchestral scores of the great masters.
Since 2004, Ed has played flute with Fantasia, the adult choir of Flute Frenzy of Williamsburg, Virginia, and serves as President of the Board. He plays mainly bass flute and is ready to play C flute as needed. He is also willing to learn how to play percussion instruments when the music calls for them. Music is certainly an integral part of his life.