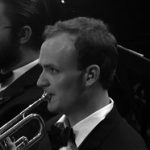 Denton native ​Camden ​Hunt ​is a Junior studying Trumpet Performance at the University of North Texas under John Holt.
As a​ member of the Symphonic Band, Concert Orchestra​,​ and 5 o'clock lab band​,​ he ​experiences wide exposure ​to​ different ​styl​es of ​music​ from all eras​.
Camden enjoys ​exploring his talent of ​arranging and composing music for the UNT Trumpet ensemble.