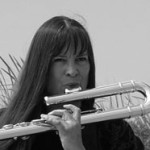 Ann Lindquist is a versatile flute player living in Mukilteo, Washington, celebrating a repertoire of many genres, including jazz; classical; folk; Latin and middle-eastern styles, world music, and especially improvisation.
Her performances on concert, alto, bass, and contrabass flute have taken her to a multitude of festivals and concert settings.
She studied composition with Robert A. Henry and is now composing for flute choirs and other ensembles.
Her compositions have been performed by the Circle of Flutes in the Pacific Northwest and Canada.
For more information visit Ann's website at www.AnnLindquist.com.