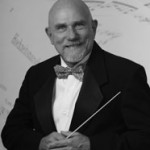 Al Hager received degrees from Florida State University and the University of Florida. He taught public school music beginning in 1968, and was selected Teacher of the Year twice before retiring in 2009.
He has the distinction of being the first director of both the Disney World All American College Band and the Atlanta Area McDonalds All Star Jazz Band.
Al enjoys maintaining a private teaching studio and is busy performing with Flutes Renaissance, the Indian River Pops Orchestra, along with Silhouette, and Idle Gossip.
Also, Al is director of the Treasure Coast Flute Choir, For Dancers Only – The Big Swingin' Band, and the FMEA Directors Jazz Band.
Al is a popular clinician, a certified adjudicator, in addition to being a published author and composer. Following his love of all things jazz, he is Chairman of the Fort Pierce Jazz and Blues Society Education and Scholarship Committee.
Beyond his musical accomplishments, he is the 2007-2010 National Barefoot Water Ski champion for the Men's 6 Division.