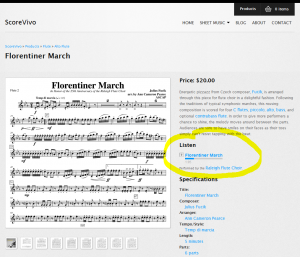 This weekend ScoreVivo.com added the ability to listen to some of the sheet music it has for sale. The recordings are of the Raleigh Flute Choir, a North Carolina group, of which arranger Ann Cameron Pearce is also a musician.
In addition to previewing the top two-thirds of the sheet music, customers may now listen to these flute arrangements as performed by the artist.
Here's how the new pages look. As you can see, a preview of the sheet music is on the left while the ability to listen to the arrangement is on the right.
We hope you will like this new addition.