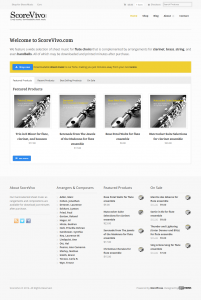 We thought it would be funny to announce our newly redesigned website as Opus 2. It's not too far off. The Latin word opus means "work, labor", and updating our website was a lot of work.
There were many behind-the-scene enhancements (better servers, cleaner code, different storefront engine) that likely won't interest you. What should interest you is a new interface that will help you better find the right arrangement and compositions for your ensemble or program.
Enhanced Filters
The left-hand column of our Shop now features several filters that will help you quickly select arrangements that meet your criteria. You may filter by instrument, ensemble size, difficulty, duration, tempo, arranger, or composer.

So if you want to find a sheet music arrangement for a five-person flute choir that lasts between four and five minutes, you can easily do so. In fact, we have six matching arrangements — most of which are by Gudrun Hinze.
More Search Keywords
For those of you who prefer to search for items, the same keyword and categorization that our filter engine uses is also available to our search engine. We think you will have an easier time finding the types of arrangements that interest you most.
Customer Reviews and Feedback
We also added the ability for our customers and fans to rate and submit reviews for any product. So if you or your audience really liked one of our arrangements, please share your feedback in the Reviews section on the product page. We're sure the customers who follow you would appreciate it.
Better Email Notification
One of the shortcomings of our old website was some of our customers would not promptly receive the email that contained links to download their sheet music. We think our newer server and better code has worked out those kinks, which should result in happier customers and fewer support requests.
A Sincere Thank You
Our customers are the best. In 2.5 years we've grown from just 10 arrangements to 135. We've lost count of just how many gigabytes of sheet music downloads you all have consumed. We couldn't be more grateful to have such a supportive audience that continues to encourage us to find new and entertaining arrangements. Thank you.